Are you moving tomorrow, in the next few days, or the next few weeks within the San Francisco Bay Area? Simplify your packing and moving by renting ZippGo Plastic Moving Boxes. Unlike cardboard moving boxes, our plastic moving boxes are crush proof, water-proof, never need tape, and are ready to be packed the moment they arrive. We've delivered tens of thousands of ZippGo boxes to San Francisco Bay Area homes and offices since 2009 and customers love us. Prices start at just $69 and include FREE delivery and pickup. Order online or by calling us, schedule a delivery date, and our friendly staff will bring the boxes right to your door.
Conveniently Delivered To You
Come Ready to be Packed
Cheaper than Cardboard Boxes
2X Storage Capacity of Cardboard
Bottom Won't Fall Out
Crush Proof and Water Proof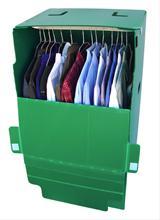 We deliver your boxes when you are available, along with any extra moving supplies you need.
Just pack up your stuff and move to your new location. The boxes neatly stack as you unpack.
When you're done moving in, we'll pick up the boxes from the new address. That simple. We make moving easier.